Trump Builds the Wall and USA Pays for it
By Maryam Iraj
Times can't be worse for USA in terms of the embarrassment which the President Trump causes to his nation every now and then. According to a White House staff member, every morning is a struggle to "contain" him. His mood swings are managed by KFC cheese burger and vanilla chocolate scoops. he has fired 22 elected member of his cabinet, since his time in the White House, on twitter, and it is still counting.
Here are the times, he pledged to build the wall and ensured that Maxico will pay for it. But USA is the one paying Trump's "wall".
The catch in this idea of building a wall was to make Mexico pay for it. And here is the response from mexico to this illogical idea of Trump:
Agents of U.S. "border patrol", Monday, declared the beginning of the construction of the "big, beautiful wall" which President Donald Trump promised many a times during his election campaign and after.
In another message Vincente Fox tells Trump to -u-k off.
The plan to replace 20 miles from the barriers was approved last year. The project would cost about $ 73.3 million and take about a year to complete according to the official statement. Here is an assessment of Stephen Colbert along with his team of the wall:
A third of the U.S.-Mexico border now has an existing barrier that until Monday had been referred to as a "fence" by the Border Patrol and other federal agencies working the area. The structure going up near Santa Teresa is now in the Sunland Park.
Hull announced in a news conference at mile west of the Santa Teresa border crossing,  where the existing fence ends and the vehicle barriers begin. He was flanked by a pair of Border Patrol agents on horseback, two more on ATVs as well as a canine pair.
Meanwhile, in a few days Border Patrol Agents will have additional help from the New Mexico National Guard, Gov. Susana Martinez announced on Monday.
Martinez said, "The safety of the new Mexicans is our first and foremost concern which is why our soldiers will participate in this operation. Later this week, over 80 New Mexico Guardians will report to support for the U.S. Border Patrol in this operation. "
250 members of the New Mexico National Guard deployed by President Trump with the governor's approval asked for troops to help on the border until he can build a wall.
Extending the barrier to Santa Teresa will help stop drugs and illegal border crossings, according to the Border Patrol.
In fiscal year 2017, Border Patrol agents in the El Paso sector apprehended 25.193 people crossing the border. Agents also seized 34.189 pounds of marijuana and 140 pounds of cocaine.
"It's going to be harder to get over, harder to get underneath."Hull said.
One of the prototypes designed for "big beautiful wall" after the president promoted to build one of his campaign is a bollard hybrid. But Hull said the structure was going up in Santa Teresa, and Sunland Park and Anapra, Mexico.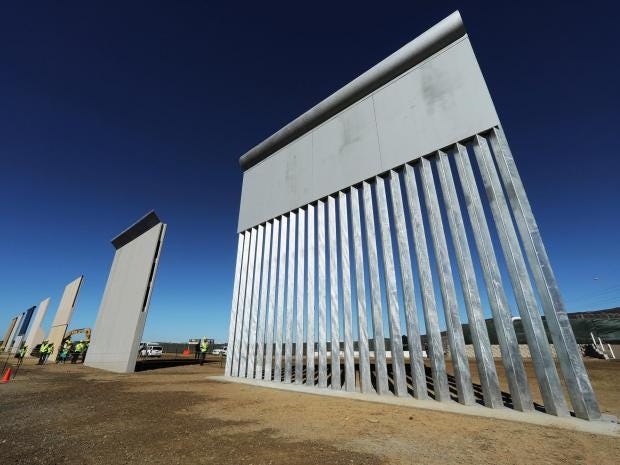 "The wall that we're using in Anapra is the same wall that's going to be here. It works for us, "said Hull.