History repeats itself but who knew in such a painful way. We lost Siraj Raisani, leader of the Balochistan Awami Party, and Bilour a few days ago, who lost their loved ones a few years ago in the identical terrorist attacks. While the national media was focused on covering the slightest moment of the convicted Nawaz Sharif and his daughter, Maryam Nawaz, Raisani and hundred others were being martyred in Mastung.
Watch the following video of the post-attack destruction; this is what your enemy does to you. That's how the entire nation bleeds:
A suicide plan focusing on a political rally of the Balochistan Awami Party (BAP) on Friday killed no less than 197 individuals, inclusive of Siraj Raessani-BAP leader, and left more than 200 fatally injured-the deadliest in a series of assaults on politicians. This security threat is posed by those who want to achieve dual objectives:
a. They don't want the General Elections 2018 to take place on time.
b. They want to malign the image of Pakistan, its army, and its agencies in the international community.
And these actors are both from within and outside the country.
Among those killed was a fearless soul who wore Tiranga, Indian flag, around his shoes, and aa die-hard Pakistan with nothing but unconditional love for the land. Raisani was the one who played a fundamental role in reinstating piece in Baluchistan.
It's an attack on the entire nation, it is time to wake up. And those who are using this attack as an excuse to blame Pak-army and the institutions of Pakistan. Don't do it. This is exactly the opposite Raisani stood for his entire life. It's a disservice to his sacrifice. Yes, the media should have been more diligent and more focused in covering the tragedy incident. But, in the love of Raisani, don't blame Pak-army or the institutions of Pakistan. We stand united, as nation, in this moment of loss.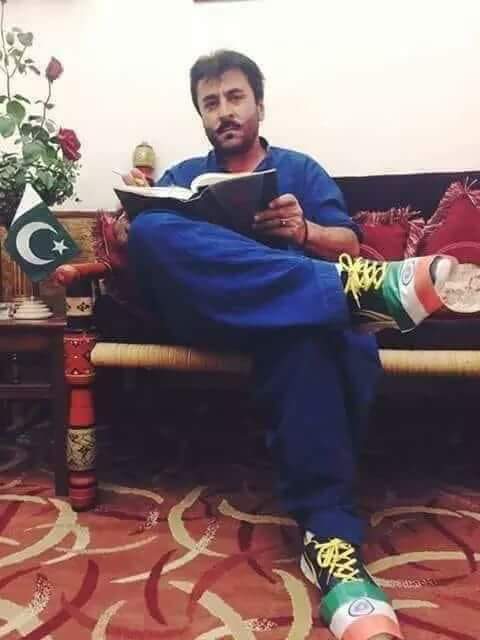 While Pakistan and its army mourn the loss of such a national hero who never minced words in expressing his love for the country and outright hatred for India and anti-Pakistan forces, India is all gaga over the loss of a national hero of Pakistan.
Check the following tweet:
It should be a moment of deep and serious contemplation for those who befriend India, invite their PM over their family wedding, and are only interested in building their personal business relationship with a terrorist like Modi-Indian PM. And it should be a moment of serious reflection for those who support such people whose personal interests and petty political gains are way beyond and above national interests.
Nawaz, to save his skin (which he could not save anyway) blamed Pakistan for Mumbai attacks, which is proven otherwise by the independent Indian media. But a PML-N leader did not come out to blame India for this heinous crime. They should have blamed India for this inhuman act in their love for Pakistan; if at all it's there. That's how impotent you get when your love is only for the money and luxuries.
Read the following for details:
Being a Pakistani, I hate these optics, and every Pakistani should:
Sharif's Bogus Anti-Pakistan Interview and Indian Terrorism in Pakistan
THE DISQUALIFIED SHARIF BLAMES PAKISTAN FOR THE MUMBAI TERRORIST ATTACKS OF 26/11 IN AN INTERVIEW TO CYRIL ALMEIDA
Siraj Raisani, a contender for PB-35 (Mastung), whose senior brother, Nawab Aslam Raisani, had already served as the Chief Minister Balochistan from 2008 to 2013, was nothing less than a hero to keep the Baluch community intact for Pakistan.
The impact – which was asserted by the suicide bomber – tore through the corner meeting in Dringarh town of Mastung locale, nearly 35km far from the commonplace capital making it the deadliest in the nation since the 2014 savagery at the Army Public School.
"The loss of life has been ascended to 197 according to certain sources. Though, the mainstream media is still coming up with the figure of 128.
What a tragedy that both Raisani (son passed away in terror attack in 2011), and Bilour (father passed away in a terror attack in 2012),  had lost their son and father, respectively, to terror attacks. Tragedy strikes in the same manner and they are no more with us. Only two days ago, ANP leader and barrister, Haroon Bilour, with 12 others martyred in Peshawar suicide impact.
"Siraj surrendered to his injuries while he was being moved to the Military Hospital (CMH) Quetta," Baluchistan Home Minister further added. Information Minister, Malik Khurram Shehzad, affirmed that the assault was a suicide attack and also included that the attacker was garbed as a party worker and exploded himself amidst a compound where the political gathering was taking place.
"Siraj was going to the corner meeting in Dringarh to advance on to the phase to address party laborers when the suicide bomber blew himself up," also confirmed Mastung DC Qaim Lashari.
Edhi and Chappa workers carried casualties to close-by medical centers in Mastung and Quetta from the besieged out zone as the families cried in the utter hopelessness.
As indicated by the bomb disposal squad, up to 15kg of explosive material was used causing more than 197 deaths and 200 injuries, as the corner meeting was stuffed with individuals.
Many dignitaries of the country and high officials condemned the brutal attack on social media and on TV with full force, except for PML-N.
The Chief of Army Staff, Genral Javed Qamar Bajwa, severely denounced the attack and regretted the loss of valuable lives in the episode, a tweet of the Director General Inter Services Public Relations (ISPR) Major General Asif Ghafoor revealed.
Earlier yesterday, four were martyred and thirty-nine injured as Akram Durrani was attacked.
Pakistan Tehreek-Insaf Chairman, Imran Khan, also took to Twitter to censuring the assault on the political assembling, and in addition shared his condolences with Raisani's grieving family.
Siraj was contesting from PB-35 (Mastung) and was known to be at the core of humanitarian and national issues. He blended his Balochistan Muttihada Mahaz with the Balochistan Awami Party (BAP) a month ago to amplify his political strength. In the wake of the episode, the BAP has deferred its political rally which was planned to be held on Saturday.