By Maryam Iraj
Haqqani not only worked as a journalist for 8 years from 1980 to 1988, but also served as a political adviser to Nawaz Sharif ( the disqualified leader of PML-N) and later as a spokesperson for the late Benazir Bhutto (leader of PPP). But his best reference is that of memo-gate scandal when he was serving as a US ambassador to United States. In this case, he was recalled to Pakistan and forced to resign. And in the ensuing court case hearings, he had risked being tried for treason as he allegedly sought help from the US for the then-Pakistan Peoples Party (PPP) government for 'reigning in the military and intelligence agencies'. The authenticity of the message by Haqqani was validated by a judicial commission which was assigned to probe the case. The commission further determined that the purpose of the memo by Hussain Haqqani was to convince American officials that Pakistan's civilian government was 'pro-US' and anti-army.
Having given this background on Haqqani, lets move on to the alleged political nexus of the Haqqani, Reham Khan, ex-wife of Imran Khan, and PML-N, which tried to rope in Dr. Salman Ahmad against Imran Khan and PTI. But that was a fleeced dream of those who wanted to feast on the minor differences of Dr. Salman Ahmad with PTI management on the induction of the televangelist, Aamir Liaqat Husain.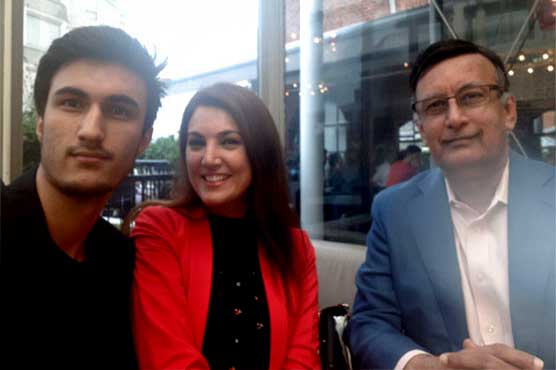 Dr. Salman Ahmad's relationship with Imran Khan goes back a long way and it's ludicrous of those people who wanted to take a bite on it.
Little they knew of the depth of Dr. Salman's relationship with Imran Khan and his ideals. On May 4, Friday,  he was in Washington for a fundraising event for Namal University along with Ms. Aleema Khan; Imran Khan's sister who stood by him throughout the developmental phase of Shaukat Khanum Cancer Hospital project, and Naeem Bukhari; a top-notch legal expert of the country and a senior leader of PTI. Pertinent to note here that all this was after PML-N offered him 10 crores, Reham Khan mailed him, and Huqqani tweeted him to slander the image of Imran Khan, PTI Chief:
The wheeling and dealing of the political world is unpredictable and strange with dark gangways at every turn. Nineteenth century humourist, Charles Dudley Warner, once wrote, Politics makes strange bed fellows, and so aptly quoted by Dr. Salman Ahmad in his reply to Hussain Haqqani and Reham Khan who happened to gang up against Imran Khan prior to the polls of 2018 with the highly controversial and salacious narrative of the book.
Reham Khan's book is about to be published with many allegedly distasteful details about PTI and Imran Khan. Since her divorce in 2015, she has been playing the victim card to tear down the image of Imran Khan. Rest assured, Imran Khan is too tall to be brought down by the antics of his opponents. The book would sell out like a hot cake; if at all it hits the shelves, as enough pre-publishing propaganda has gone into it. It is Dr. Salman Ahmad who has taken a stand to confront and disclose the dirty swapping of PML-N, Reham khan, and Haqqani at a point when General Election 2018 are around the corner in Pakistan.
It's too coincidental and fluky to be true that all these individuals; Reham Khan, Hussain Haqqani, PML-N Cronies, are singing from the same song sheet at a time when they thought it the most befitting moment to strike on the Achilles heel. 
As Dr. Salman revealed through his tweet today:
In my timezone, @husainhaqqani tweeted on Mar 19, the same day that @RehamKhan1 & PMLN contacted me regarding my tweet on @ImranKhanPTI .
revenge & misery makes strange bedfellows. https://t.co/FxZ2xxzC6F

— salman ahmad (@sufisal) June 4, 2018
Hussain Haqqani, who is known for his anti-Pakistan discourse, was dressed down by Dr. Salman Ahmad to "first clear the beam out of his own eye before removing the speck from his brother's eyes."
Waaqyi apne Girebaan MeiN Jhankna Bahot Dil Gurday Ka Kaam Hai. @husainhaqqani First remove the beam out of your own eye,
and then you can see clearly to remove the speck out of your brother's eye. https://t.co/uB1W1SKSo3

— salman ahmad (@sufisal) June 4, 2018
The above-mentioned tweet of Dr. Salman Ahmad was in response to the following tweet of Hussain Haqqani who accused him of "making-up" the narrative.
The @sufisal I knew would not lie like this. Difference of opinion is one thing. Making stuff up, quite another. And it is not that he does not have my contact info. https://t.co/PZyFYQxXbR

— Husain Haqqani (@husainhaqqani) June 3, 2018
In response to this, Dr Salman Ahmad revealed it to Baaghi.tv.,the proof of Hussain Haqqani's Twitter message to him for showing the engineered "sympathy co-incidences".
Dr. Salman Ahmad further tweeted to Reham Khan for denying his claims of asking him for money for her film Janan, and for taking one crore from Aleem Khan, a senior PTI leader, and using the charity which people entrusted with Imran Khan for his philanthropic projects. He also challenged Hussain Haqqani and Reham Khan for an open-debate on a private television channel.
His message to Reham Khan read: @RehamKhan1 pls deny asking me for money for your film project, taking 1 crore from Aleem Khan & using IK charities to collect money 4 self?. 
The reason behind the upfront confrontation of Dr. Salman Ahmad is the sheer fact that he stands his grounds, and has gotten enough evidences to back up his claims. Reham Khan who has been in the news lately for the upcoming book; the leaked draft of which caused massive distress to many. And many names close to Imran Khan, who were also maligned in the book, sent the author a legal notice for the disparaging personal attacks on them.
The legal notice was served to Reham Khan by Sweetman Burke and Sinker, UK solicitors, on behalf of its clients Mr. Wasim Akram (legendary cricketer of Pakistan and a well-known media personality), Dr. Ijaz ur Rehman (Reham Khan's first husband), Ms. Anila Khawaja (PTI's international media coordinator and an active member), and Mr. Zulfikar Bukhari (PTI member). In the notification, it is clearly mentioned that the 600 pager leaked manuscript of the book carried many names with salacious charges.
She is supposed to submit her response to the notice within 14 day from the issuance date of the notification (30 May 2018).
Germane to this debate is the prediction of Hanif Abbasi and other PML-N cronies about the upcoming book of Reham Khan. It was already alluded a year back in a very intimidating manner by Hanif Abbassi and many other PML-N leaders.
The alleged nexus exposed by Dr. Salman Ahmad is attuned to the Charles Lever's famous quote in Delphi: Some they bought—some they ruined—some they intimidated—some they destroyed by calumny.
Follow the author on Twitter at m_r_a_.