Imran Khan, like many of us, must have made many mistakes, but his last ex, Reham Khan, was his worst. Having said that, it's an indisputable fact that Imran Khan leads the second largest political party of Pakistan, for many, it's a government in waiting. And people who love him are not those who follow him politically- they follow him for his philanthropy and his personal achievements. This man stood the test of time and is loved with all his follies and fortunes by millions.
Divorces are always bitter, rough, and glutted with anger. But very few start and end up with agendas and schemes. Reham Khan, who was divorced by PTI Chief, Imran khan in 2015 could never move on.She could never stop herself from taking her grudge out in public against her ex-husband. And she is good at such theatrics.
In February this year, she told to Indian media,"except for "marriages" (she used the word "shadian"), her every move is well-thought-out." Well, to the best of our knowledge, her "every" move is well-thought out.
Be it her marriages or her performance as a honey-trap by the rivals of PTI, she is good at what she does. For long, she has been tipping off her upcoming book as a great disclosure on her experiences with PTI and Imran Khan.
She threw the same invective dregs on her first husband Dr. Ijaz Rehman (married1993–2005), , father of her three kids. Being a woman, her jaundiced slurs could be justified but her meet-ups to PML-N leaders in the wake of so many controversies, and with memo-gate-famed Hussain Haqqani who is trying to re-imagine Pakistan from India and considers Pakistan-a dysfunctional nuclear state, smells rat. In addition to many credentials of Haqqani, he is the main lead in memo-gate scandal, and the one who considers the war of 1971- an ethnic cleansing operation by Pakistan army.
Lately, Reham Khan was spotted with Haqqani in London for allegedly discussing her book.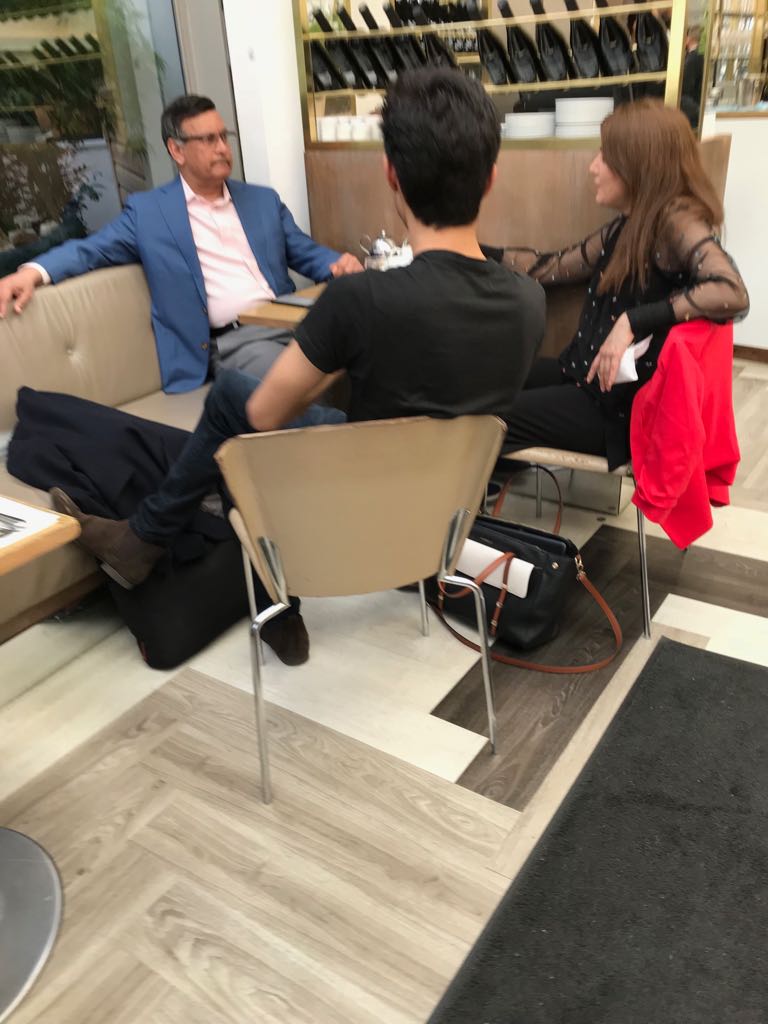 The manuscript of the book has already been leaked, to which Hamza Abbasi reacted in the following Tweet:
Had a very unfortunate experience of reading a manuscript of Reham Khans book. Here is the summary: IK is the most evil man to walk the face of this planet. Reham is the most pious righteous (Tahajjud guzaar) woman ever and Shehbaz Sharif is an amazing guy! #RehamOnPMLNAgenda

— Hamza Ali Abbasi (@iamhamzaabbasi) June 1, 2018
Few minutes ago, Abbassi tweeted the following:
#RehamOnPMLNAgenda Some more "latest" truth! pic.twitter.com/nAxPbMOKso

— Hamza Ali Abbasi (@iamhamzaabbasi) June 2, 2018
Pertinent to remember that interview which Reham Khan gave to Indian media on 3rd February 2018, precisely two days prior to Kashmir day is sleazy in many ways. In that "Nostradamic" interview, she claimed that she knew many shocking details about Khan and PTI. And according to her, "there comes a time when silence is betrayal",
In that interview, she not only criticized PTI and Imran Khan but also criticized the decision of the top judiciary of Pakistan for "being allegedly lenient to Imran Khan."
There is nothing conscientious , intellectual and sanctimonious in criticizing the judiciary of Pakistan with its arch-rival, India. And that too for petty gains.
And in the following exchange with Ahsan Iqbal, former Federal Minister of PML-N , you will find her talking to Iqbal about Maryam, planned meetings and casual dinners. But the most important line in this entire exchange was when she requested Ahsan Iqbal to "educate" her on how to use that "information". This exchange promulgates the intent behind the entire narrative of the book, and also renders an exposé on the political ethics of PML-N.
Read the exchange of Reham Khan with Ahsan Iqbal. According to the following exchange, she is "very fond of Maryam."
Rest assured, her sold and planted narrative won't be next to gospels in any shape and form to dissuade PTI followers and Khan lovers. Writers are appreciated on merit, intellectual class, and authenticity. And, so far, the optics and leaks are betraying any such promise, denuding the latent intent of the author;Reham Khan.
Follow the author on Twitter at m_r_a_.