By Maryam Iraj
Pakistan People's Party (PPP) Senator, Sherry Rehman, elected as Leader of the Opposition in the Senate on Thursday. Rehman got her B.A from Smith College and received her M.A. in art history from the University of Sussex. She joined the Herald as its editor and served it till 1999. 
The Senate secretariat released a notification declaring Sherry Rehman the opposition leader of the Senate.  Rehman, a fine writer and a woman of substance, is the first woman to hold the office of opposition leader in the Upper House of the Parliament.
Here is the notification: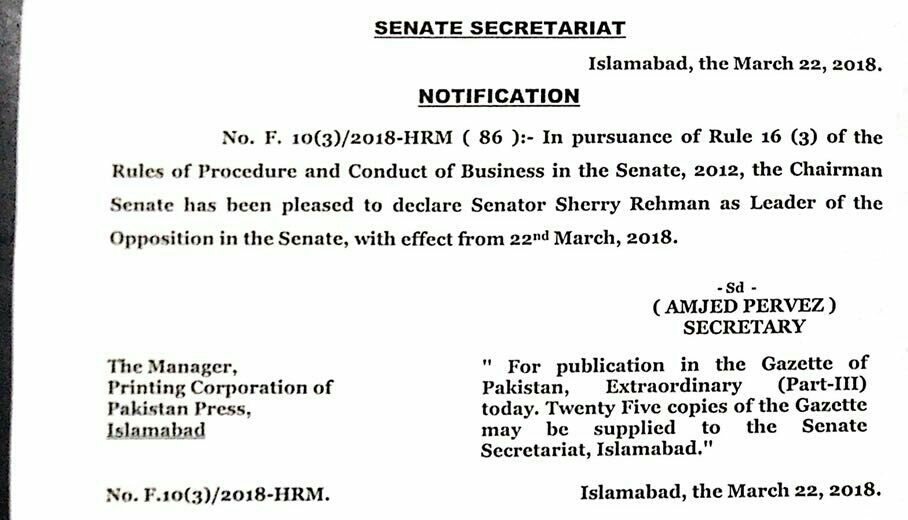 Rehman being the 12th Opposition Leader in the Senate and seventh opposition leader of Pakistan Peoples Party enjoys the support of 34 senators for her office.
Rehman, a proud daughter of Pakistan, shared this great news with his followers on Twitter at 4:31 PM today:
–@VicePresPPPP Senator @sherryrehman becomes Pakistan's first woman Leader of the Opposition in Senate 🇵🇰 #PPPMakeHistory #PPPEmpowersWomen

— SherryRehman'sOffice (@SRehmanOffice) March 22, 2018
PPP Chairman, Bilawal Bhutto Zardari ,had given the go-ahead to the nomination of Senator Sherry Rehman for the slot, and announced it in the following tweet:
#PPP ready to make history again. We nominate Senator @sherryrehman for the position of Leader of Opposition. InshAllah she will be the first woman to lead the opposition in the senate. Pakistan People's Party; #WeMakeHistory

— BilawalBhuttoZardari (@BBhuttoZardari) March 14, 2018
Prior to her election as a member of the Senate, Sherry Rehman, enjoyed and did justice to many important posts in the previous PPP government. She had also served as Pakistan's ambassador to the United States from 2011-13.
Early on, the office of the opposition leader was held by Aitzaz Ahsan whose term of six-year ended in the Senate this month.
On March 12, Balochistan Senator, Sadiq Sanjrani, was elected as Senate Chairman as he banked 57 votes out of the total 103 cast for the slot, beating the PML-N's Raja Zafarul Haq. However, PPP's Saleem Mandivwala, was elected as Senate Deputy Chairman.