The debut session of fifteenth National Assembly started today, on Monday, as 331 elected members from across the country took the oath to perform their duties for the next five years. Speaker of National Assembly, Sardar Ayaz Sadiq, who presided the house, as the speaker of the assembly at the debut session of the fifteenth National Assembly, regulated the vows to the recently chosen individual from General Election 2018 (GE-2018) of the parliament.
Members of National Assemblies (MNAs) are right now marking the Roll of Members.
The national anthem was played to inaugurate the session, which was trailed by the recitation of the Holy Quran and Naat.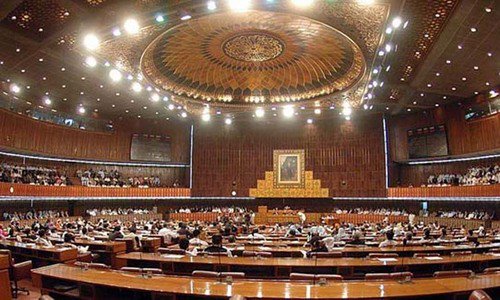 Parliamentarians were called in the alphabetical order and Asif Ali Zardari was the first one to sign as the Member of National Assembly (MNA).
When Imran Khan, PTI Chief and soon-to-be Prime Minister, signed as an MNA, the entire house was thrilled with slogans in favor of PTI. Prime Minister of Pakistan shall take the oath on 17 August 2018. Imran Khan who is also the leader of the house with the maximum majority of 158 seats most likely will be the next and 19th PM of Pakistan.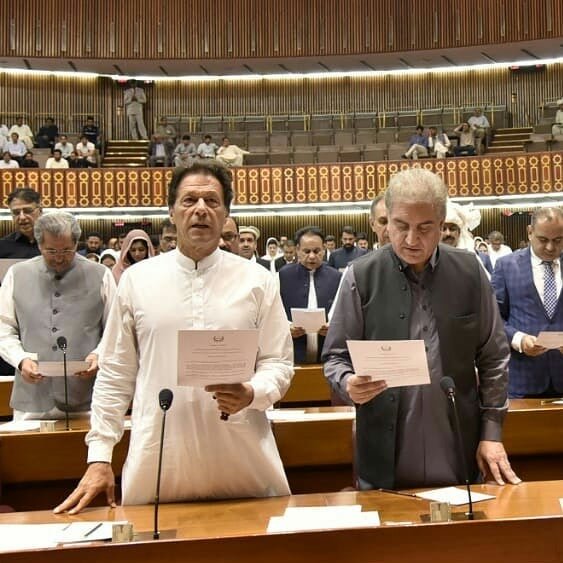 Bilawal Bhutto Zardari, Chairman PPP, also took the oath for the very first time. It was the first election of Bilawal Bhutto's political life. However, PPP co-leader Asif Zardari returned to National Assembly after 22 years.
The debut sessions of Sindh, Khyber Pakhtunkhwa, and Balochistan gatherings were additionally held today. Elected individuals from the three governing bodies also took the vow.
Following the oath-taking ceremony of MNAs, the decisions of the speaker and deputy speaker of the National Assembly will be held on 15 August 2018. Applicants running for the posts of speaker and deputy speaker shall file their nomination papers to the Speaker's office on August 14.
The NA speaker will be chosen first after which he will conduct balloting for the appointment of deputy speaker.
The due date for the submission of the assignment papers for PM office is 2:00 pm on August 16 as the decision of the PM will be held the following day on August 17.
President Mamnoon Hussain will oversee the pledge to the PM following the final decision.
PTI has nominated Asad Qaiser for the post of speaker National Assembly, while the grand opposition, involving 11 political gatherings, has nominated Syed Khursheed Shah for the post, and Maulana Fazlur Rehman's son Asadur Rehman for the post of deputy speaker.
The PML-N president Shahbaz Sharif has been named as the contender for PM by the opposition party.