By Maryam Iraj
The Vietnam's airline industry is currently not very large, but it is ready for a massive growth with the domestic airlines planning to either double or even triple their fleets as they seek to service the country's 90 million plus citizens over the next few years. Further, the fast growing tourist industry has been increasing at a 20 percent rate year-on-year.
VietJet launched in November 2007 in Vietnam by now billionaire lady Nguyen Thanh Ha, rose to fame in  2011 with its bikini-clad attendants. Overnight, its image changed from a low-cost carrier to "bikini" airline, and went on to make waves around the world for its slim-trim sexy flight-attendants. Lest you think this is a "sexist" airline, let it be known that its CEO is actually female, Madam Nguyen Thi Phuong Thao.
In pursuit of this ambition, Vietnam's low-cost airlines VietJet, known for its bikini-clad flight attendants, is going to start direct flights from New Delhi to Ho Chi Minh City by the end of this year. 
Setting aside political correctness, she practicably sees a good marketing gimmick to reel in male customers. Her calculations were so right as she has become the first female billionaire in Vietnam. 
The image of  'bikini airline' has obscured the more important point that VietJet has become a regional force, especially in low-cost carriers.
The Vietnamese aviation market is booming and with its initial public offering (IPO) or share sale soon, some expect its valuation to surpass even that of longstanding Southeast Asian national carriers like those of Malaysia, Indonesia and Thailand.
And they have every reason to lead the aviation industry. Check this out:
Following its launch in December 2007, VietJet soon became Vietnam's second-largest airline. This budget airline is also known for its controversial PR stunts. Initially in 2011, it received huge backlash for releasing a series of photographs of women dressed in bikinis as part of an advertising campaign, but soon gained popularity as the 'Bikini Airline'.
The flight's female crew apparently still wear bikini on special flights.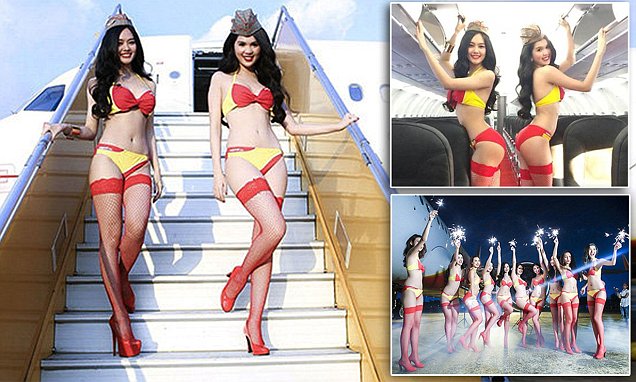 VietJet is quite popular in Vietnam due to its low fares, and while budget carriers have proliferated in the region, some as low-cost subsidiaries of existing airlines, others have been established by budding entrepreneurs. VietJet is one such initiative by a radical female entrepreneur who wanted to make it big and she did it.
In August, 2012, VietJet was fined VND20,000,000 for an unauthorized bikini show on a flight from HCMC to Nha Trang even though there were no laws prohibiting the practice.
Just like any other country, civil aviation has been a noteworthy industry for Vietnamese development as well.
For a long time, locals obviously couldn't travel so freely and easily to other Southeast Asian destinations, especially. However, various integration initiatives in the region like 'Open Skies' have played a part in expanding the market in newer accession countries Cambodia, Laos, Myanmar, and of course Vietnam: