By Anahita Zurvan
Chairperson of Pakistan Tehreek-e-Insaf (PTI), Imran Khan, finally, got married to the lady of his choice, Bushra Manika, whom he proposed lately.
Khan wore a simple shalwar qameez and his bride was fully clad and covered in chador. The two were accompanied by close friends and relatives on this special day.
The news just broke out with nikkah ceremony picture on Twitter with the following account :
Congrats. مبارکاں۔
میں چھج پتاشے ونڈاں۔
😋 pic.twitter.com/XKMhIZcgpp

— Murtaza Solangi (@murtazasolangi) February 18, 2018
Khan signing on nikkah papers: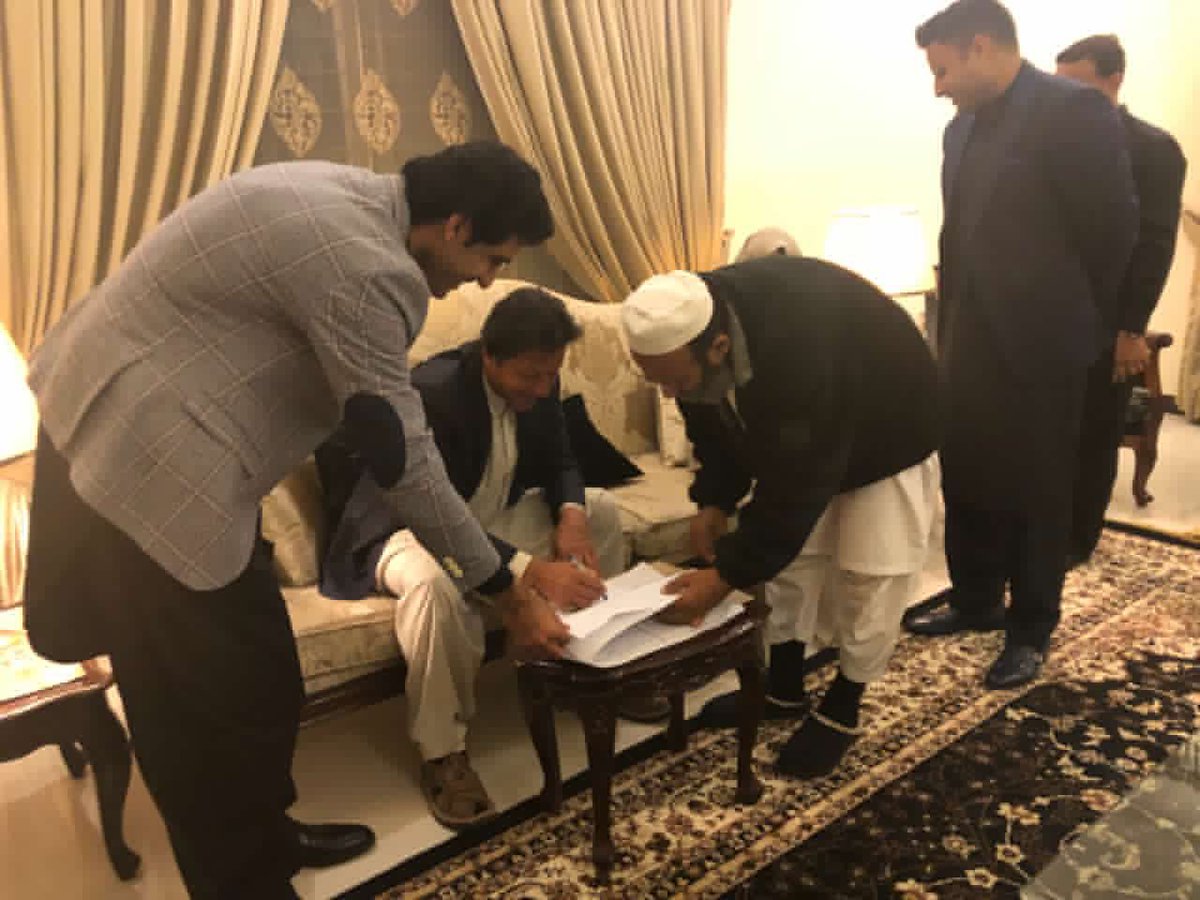 PTI leaders have already started wishing him the happiness and peace for the new beginning:
PTI leader, Shafqat Mahmood,  just tweeted:
Congratulations Imran Khan on his marriage. Wish the happy couple all the best #MubarakImranKhan

— Shafqat Mahmood (@Shafqat_Mahmood) February 18, 2018
And so did Jahangir Tareen:
Khan sb, shaadi mubarak ho bohat 😊 I hope & pray that Allah keeps both of you happy for the rest of your lives. Stay blessed 😊 #MubarakImranKhan pic.twitter.com/dTjScmUHIS

— Jahangir Khan Tareen (@JahangirKTareen) February 18, 2018
Lately, Khan was in the news with reference to the proposal he sent to Bushra Manika. It would be the third marriage for Khan and second for his newly-wed.
Sadly, he was grilled by many for his "marriage" proposal which entirely was his personal affair. As claimed by both PTI and Khan, it was a smear-campaign to malign the image of Khan on highly unethical and unjustified grounds.
In the first of the six  tweets regarding his marriage, Imran brooded as how he was being treated as a "criminal" for deciding to get settled in his personal life.
For 3 days I have been wondering have I looted a bank; or money laundered bns in nation's wealth; or ordered a model-town-like killing spree; or revealed state secrets to India? I have done none of these but discovered I have committed a bigger crime: wanting to get married.
— Imran Khan (@ImranKhanPTI) January 9, 2018
The vicious fake news mafia disturbed him a lot:
The vicious, gutter media campaign led by NS & MSR mafia does not bother me as respect & humiliation come from Allah Almighty.
— Imran Khan (@ImranKhanPTI) January 9, 2018
He was also worried for Maneka and undue media projection on their personal life:
However, my concern is for my children & the very conservative family of Bushra begum, all of whom have been subjected to this malicious campaign by NS & MSR.
— Imran Khan (@ImranKhanPTI) January 9, 2018
And his many fights..
NS & MSR can rest assured that their vicious campaign has only strengthened my resolve to fight them all the way.
— Imran Khan (@ImranKhanPTI) January 9, 2018
Khan was right when he hinted at the dirty laundries of Sharifs, yet graceful enough to rise above the situation:
I have known the Sharifs for 40 years and I know all their sordid personal lives but I would never stoop to the level of exposing these sordid details.
— Imran Khan (@ImranKhanPTI) January 9, 2018
Finally,…
All I ask of my well wishers and supporters is that they pray I find personal happiness which, except for a few years, I have been deprived of.
— Imran Khan (@ImranKhanPTI) January 9, 2018
It's time that with these pictures, the smear campaign against Khan's personal life comes to an end.
#MubarakImranKhan is the new craze on Twitter.