Two years ago, on this very day, a human being passed away called Abdul Sattar Edhi. Who knew that a baby boy born on 28 February 1928 to a poor mother would end up adopting more than 20,000 orphan kids as a father? Who knew that this saint would fight and win the case of national identity cards for orphans? Who knew that this baby would serve humanity in the "spirit of all religions". Who knew that humanity would survive through him? 
Being Muslims, we love to distinguish between what is allowed (Halal) and what is not allowed (Haram) in Islam. And one of the most important activities which we like to carry out is infanticide. If a child is born out of marriage, the unmarried parents would kill their baby happily to save the pseudo-egos. It was Edhi who placed a cradle outside every Edhi center, with a placard stating: "Do not commit another sin: leave your baby in our care." Abdul Sattar Edhi not only saved 35,000 children but also found families who cherished them. This man lived the dream of Jinnah.
Though Pakistan was conceived as a welfare state by Muhammad Ali Jinnah, father of the Nation, there was no welfare state till the fifties. And after Jinnah, who served as the highest state-official as Governor General, against the salary of one rupee, we had only Edhi who remained true to the cause of Jinnah till his death. He knew what it meant to be a human and to be a Pakistani.
He would rush around the territory of Sindh in his poor man's rescue vehicle in the fifties, gathering dead bodies, taking them to the police headquarters, sitting tight for the passing testaments and, if the bodies were not identified, gave them final burial on his own. This was Edhi who ran the best graveyard services in the world of missing persons with numbers and complete profiling, given to each grave.
He set up a free dispensary for the city's low-salary inhabitants. It was just the beginning of his philanthropy which would, later on, become the largest ambulance network owned privately in the world. His journey would not have been complete without the perseverance of his better half, Bilquis Edhi, who took care of even those sick animals whom he picked up from the roads, brought home and asked Bilquis Edhi to feed them, nourish them. What to talk of the human beings whom they raised.
This is the only love-story I would ever relate to my kids-the love story of Edhi and Bilquis. Lovers who rose above themselves and loved every single living organism in this world. He buried the dead rats and paid Rs. 20 rupees each who brought them. He ran the graveyards, morgues, marriage services, the struggle for the missing persons, educational services,  air ambulances, destitute homes, international collaboration centers, and the list is limitless.
The Edhi Foundation runs additionally 300 welfare houses and centers across the country working as sustenance kitchens, restoration homes, covers for deserted ladies and youngsters, and centers for the mentally ill. Moreover, the Edhi Foundation runs eight medical facilities, animal shelters and funeral homes across Pakistan. 
This pen of mine would never measure up to the spiritual submiliity of this saint who lived larger than life for those who had very little to live for.
Over his lifetime, the Edhi Foundation extended by private gifts and donations included the build-up of a system of 2,400 minivan ambulances which is as yet an unbeaten world record. From having one rescue vehicle which he drove himself, the Edhi Foundation currently has 2,400 ambulances and three air ambulances positioned the nation over. Truth be told, in 1997, the Edhi Foundation entered the Guinness World Records as the "biggest volunteer rescue vehicle association".
We pay homage to late Edhi in words but he needs donations and cash from his people to support those whom he lived for. He can't beg now for the needy and poor, but we need to be generous. According to a source, Edhi's donations have been dropped drastically after his death. Let us commemorate his life and legacy by contributing to and carrying forward his cause-a cause which kicked off as a free dispensary in 1951, went ahead to end up as the biggest philanthropy association in Pakistan.
There are no horrors that Edhi and his staggeringly strong and resolute rescue teams have not seen, and the various lives they have saved. They picked up babies from the garbage bins, left by heartless parents and bitten by stray animals, yet healed and raised with love by Bilquis and Edhi.
The tale of Abdul Sattar Edhi harmonizes with the historical backdrop of Pakistan. More than any other living or dead figure, he explains Jinnah's vision of a nation which welcomes individuals of all religions, races, and ethnicities and treats each one of them equally.
Undoubtedly, the life of Edhi gives a tragic discourse on the treachery of Jinnah's Pakistan by a self-intrigued and conniving political class who used religion and illiteracy of Pakistani people to their benefit.
As his last will, he donated all his body organs. His corneas were given to two blind persons. The following last picture of him is a reminder of his sacrifices and selflessness beyond his grave.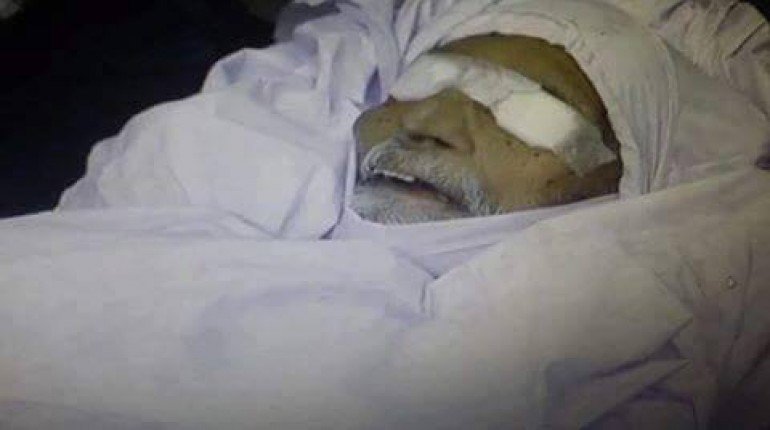 Let us support the Edhi Foundation financially which is the best way to pay homage to Edhi. As he once told that God is not impressed by words and praises, he would assess you for your services to humanity.
Following galleria in memoriam of Edhi who denied toys to his own biological kids because not every Pakistani kid could afford or enjoy toys. This is called compassion, this is called parenting. 
Don't let these kids of Edhi die, don't let the cause of Edhi die. Donate.