By Maryam Iraj
More than the unfortunate attack on Asad Kharal on 6 June 2018, the calculated reaction of media on the attack prompted me to write this article.
Asad Kharal has always been critical of anti-Pakistan and corrupt forces, and on 6 June 2018, he was badly beaten-up for the very fact that he refused to bow down before the powerful corrupt mafia of this country. He was the one who exposed the submission of forged documents in the Supreme Court of Pakistan by PML-N among many of his ground-breaking stories. He was also the one who exposed the Rs.1,000 billion custom's green channel scam, published in Customs Today. Following its publication, the Chief Justice of Pakistan had also taken notice of his report.
Watch the following video for Kharal's criticism of PML-N:
On June 6, when he was on his way home from the Lahore airport his vehicle was seized; he was taken out from the car and attacked. Following the assault, he was rushed to the Lahore Services Hospital for medical assistance, where he is still undertreatment.
Syed Ali Zafar, Caretaker Law Minister, condemned the attack, and referred to "freedom of expression" as a basic constitutional right, and the protection of it as a constitutional responsibility.
Kharral, also registered an FIR under Section 7 of Anti-Terrorism Act against the "unknown assailants" (as they were wearing masks and gloves) who attacked him near Allama Iqbal International Airport, Lahore, in the late-night hours of Wednesday.
In his FIR, the senior journalist demanded the establishment of a joint investigation team (JIT) to identify and bring to justice the attackers. Kharal also demanded, "I do not want to lodge a case because the police cannot take action against them. I will lodge a case if a high-level joint investigation team (JIT) is formed, comprising people from intelligence agencies besides the police. The JIT can be effective only if Chief Justice of Pakistan Mian Saqib Nisar heads it,"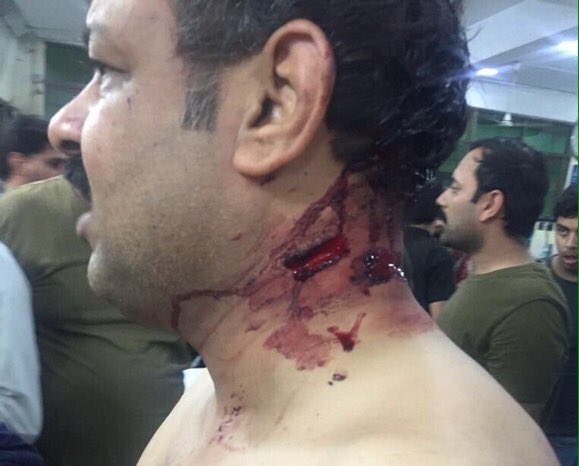 A day earlier, on 5 June 2018, another unfortunate incident took place—the abduction of Gul Bukhari. Columnist Gul Bukhari was returning home when she was abducted near Sherpao Bridge in Lahore on Tuesday night by also unidentified men, and was released hours later.
But what should bother us the most is the approach of predisposed media pundits who wanted to downplay the attack on Kharal in the unfortunate incident of the abduction of Gul Bukhari. The reaction to Bukhari's abduction was altogether on a different level. Other than the journalistic community, corrupt political elites and international political community took aggressively to Twitter to express their concerns.
Pertinent to note here, she is known for her anti-army criticism and her pro-PML-N rhetoric of Vote ko Izzat do (Give respect to vote).
Watch the video below:
No wonder, Maryam Nawaz showed her deep concern in the following tweet:
Extremely disturbing, worrisome news of @gulbukhari abduction. This is just cruel & worst kind of oppression. Sad day. #BringBackGulBukhari

— Maryam Nawaz Sharif (@MaryamNSharif) June 5, 2018
'Free media is an imperative to democracy—however democracy is a system that lends itself to what we opt to do with it. In our country, it has always been used as a tool to create divisions by a major chunk of journalistic and political community.
It is time to separate systematic corrupt political mafia from a truly prosperous democracy rolling out to the advantage of the poor and exploited. If brutally honest journalists like Kharal are assaulted and their pain is brushed away while the abduction of another journalist is taken-up as a national tragedy of the chosen ones, there is something seriously wrong with our system.
A robust and fully-functioning democracy only thrives with free, patriotic, and honest media. In the name of free-media, we can't serve the agendas of those who fear the very existence of Pakistan.
Having said that, we need to align our agendas in the best interest of our country. Who is the beneficiary if our institutions fail, our army collapses, our country is split apart once again. Only those who sold the entire nation's dignity with circular debts, ruined, and sold the national assets: PIA, PTV, and many others. We are now left with the consequences of a massive political exploitation with high-levels of personal debt, in-work poverty, and massive inequality. According to State Bank of Pakistan, "external debt and liabilities rose sharply to almost $89 by the December 2017."
But still the enlightened clique is up to support the "monarchs" of the democratic process. Let us not fall victim to the intellectual theatrics of such sold-out souls.
Unfortunately, the very concept of democracy has become a tool in the hands of those who can exert influence both on social-media and in print. And those who are honest and dedicated to the cause of noble journalism fall victim to the demons of "angry and ousted corrupt mafia".
When one targets to expose the crooked coterie instead of targeting the institutions of Pakistan, he/she becomes a pariah. And certain pockets in the media in coordination with the anti-Pakistan forces, dedicate themselves to the demoralization of ethical and forthright journalistic traditions, army and other institutions of the country. Few on assumptions and majority on agendas.
What are we up to? In league with those (Indian establishment) who proudly claim that they were responsible for 1971 war.
According to The Hindu:
"An inspiration for so many people like me, Bharat Ratna Shri Atal Bihari Vajpayee is being honoured by Bangladesh," Mr. Modi said in a speech ahead of accepting the Bangladesh Liberation War award on behalf of the former Prime Minister.
Bangladesh is conferring the award on Mr. Vajpayee for his contribution to the South Asian nation's fight from Pakistan."
Needless to emphasize the fact that the world's leading democracy takes pride in the "liberation war" of the 1971, which we remember as the Dhaka Fall—a national tragedy.
Let us connect the dots to explore intelligently who will come out chivalrous and winner in this social media war of projecting Pakistani army as an anti-democratic force. While our army continues to cede the authority to promote the culture of tolerance; our parliamentary democracy fails to link itself with the lives of ordinary people.
There is a status quo in media as well and the war between truth and propaganda is in full-swing, especially on social media. And, in this war, we need to take sides with truth—with Pakistan. As Elie Wiesel  rightly said, neutrality always helps the oppressors not the oppressed. The measured silence in the case of Kharal carries the echo of this oppression.
Follow the author on Twitter at m_r_a_.